Christian Education for K-6 at home
Parents, please let us know if we can help with your Christian Education needs:
algonquinucc@gmail.com or 847-658=5308
At CCA, we call our Christian Ed program for K -12 "Shepherd U".
"Shepherd University"
is our Sunday School and meets at 10:00 am each Sunday. This custom-
designed
"university" occupies the top floor of our church and is based on a biblical cityscape. The lessons are taught using the multiple intelligences approach. These lessons in music, games, art, cooking, stories, drama, puppets, science, and video teach the stories of the Bible.
After the Pandemic, please join us any Sunday for Shepherd U.
A letter from our Ministry of Christian Education
Dear Friends of Shepherd U,
We hope you are all doing well, and adjusting to spending more time at home. Although we can't go to Shepherd U. right now, that doesn't mean we aren't thinking of you.
We have decided to try a new, free, on-line resource. This program focuses on what we are going through right now. Please feel free to follow the links.
There is a song, a story, questions to ponder, and a prayer.
And, since it is free, please remember to "skip ad" during the video portion, and exit the video before another video starts. You may need to hit Ctrl and click on the link to open the video.
Please remember, we are testing this new free "e-learning" and welcome your feedback!
Yours in Christ,
Karen Guenther, Chair
Ministry of Christian Education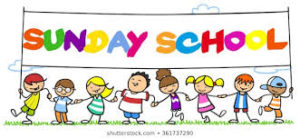 Craft Idea:
Be the Church is a saying and a theme at our Church because we are a United Church of Christ. Make your own poster of how you can "Be the Church".
Here are a few pages of a "Be the Church Coloring Book to help you talk about some of the "Be the Church" list.
Coloring Book pages (can be printed and colored)
Here is a sample of one that the Church has used:
Some more examples: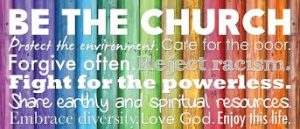 Activity Idea:
Click here to download a printable activity: