Algonquin/Lake in the Hills Interfaith
Food Pantry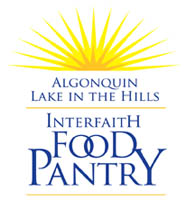 The Algonquin Lake in the Hills Interfaith Food Pantry is a not-for-profit organization supported by the community as well as the local churches, including the Congregational Church of Algonquin. The Pantry provides temporary, immediate access to food for families in need living within the boundaries of Algonquin and Lake in the Hills. Food donations are collected at the church on the first Sunday of each month or anytime, and church volunteers assist at The Pantry.
The Algonquin Lake in the Hills Interfaith Food Pantry
P.O. Box 7866, 133 Pyott Rd., Lake in the Hills, IL 60156
Phone: 847-854-1904
A letter to the Churches of Algonquin from the Food Pantry
I am the Liaison for The Algonquin-LITH Food Pantry in LITH on Pyott Road.
It has come to our attention recently that people in need in our community are not aware that we are still serving clients in this COVID season.
Please make your Parishioners aware that we are open for curb side pick up at our regular hours;
Tuesday and Thursdays 9:30 AM – 11:30 AM every week
Every 1st and 3rd Saturday 9:30 AM – 11:30 AM
We are not having clients shop in the Pantry as in the past. The process is they park in the parking lot. There will be numbers displayed on a board. The client takes a number and when there number is available they go into the foyer(Masks must be worn) to sign up for their groceries. The Volunteer is behind a plexiglass screen to assist the client. The Volunteers(wearing Masks) inside will gather the groceries and bring them out to the car.
We are practicing all of the COVID Mandates to ensure safe delivery.
Thank you and please be safe!
Anne Thomas
Algonquin-LITH Food Pantry
1113 Pyott Road
Lake In The Hills, IL 60156
PHO: 847.854.1904
There are so many ways to support our local food pantry. Please contact us if you are interested in getting involved: