Yarn Works is a great way to knit, crochet or sew your way to mission.
We have several on-going projects that are missions of the church.
Prayer Shawls – A prayer shawl may be taken to someone who is going through an illness or in need of some kindness. They are a way of showing God's love to people who need to feel the arms of God surrounding them.
Snug Hug for Kids – This is an annual drive to place a homemade item in the hands of all children in foster care in the Chicagoland area during the Christmas season.
Baptism Dolls – When a new baby is baptized here, we give them a crocheted doll that our member, Jo Martenson, makes by hand. No two dolls are alike and each family leaves with a wonderful gift.
In the past, we have crocheted plastic bags into water-proof mats for the homeless, stitched rainbow scarves for our denomination's celebration and knitted caps for our military. And we are always up for new projects. Our favorite part of most Thursdays is showing off our new projects and seeing what our sisters have been working on.
This group of friends meets Thursdays at 10:00 am, and new friends are always welcome. If you wish to learn, new students will find friendly instruction and all the supplies you need to get you started to knit and crochet.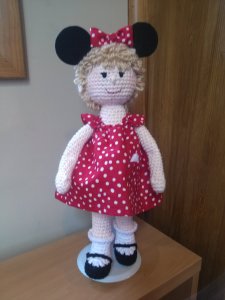 For more information, please call the church office (847)658-5308 or use the form below to email: